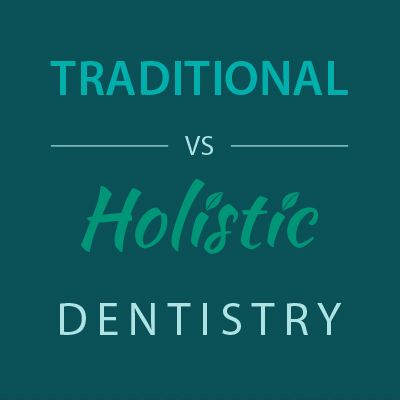 Nowadays, everyone is looking for safer, healthier options when it comes to their health, lifestyle, and well-being. From natural cleaning products to mindfulness apps, you have many options when it comes to improving your everyday life, and your dental care is no exception. If you've never heard of holistic dentistry, read more below to learn what it is and if it's right for you.
What is Traditional Dentistry?
If you were to walk into a random dental office, you'd likely meet a traditional dentist. These practices are currently more common than holistic dentistry practices. Traditional or conventional dental practices are based on centuries of science and research. While alternative options are always worth being explored, traditional dentistry is trustworthy and fitting for most people.
Traditional dentistry isn't the opposite of holistic dentistry, it just means it's the most common and most understood. As holistic practices become more proven, trusted and well known, they will likely become conventional practice. Many holistic dentists still rely on conventional dental history and standards, and many conventional dentists are eager to learn about and use holistic dental treatments in their practices.
What is Holistic Dentistry?
Simply put, holistic dentistry uses practices that are safest for your body, mind, and environment, even if that means using nontraditional procedures. It's a philosophy of care that a dentist might believe in fully or just partially.
Holistic dentistry is also called natural dentistry because the treatments are designed to work closely with your body's natural functions. This is especially important when it comes to treating an oral health issue without causing further damage elsewhere in your body.
A holistic dentist considers your diet, lifestyle, environment, and overall health when cleaning, diagnosing, and treating your smile. Some dentists label their practices as exclusively holistic, but holistic treatments can be found in offices everywhere if you know how to find them.
Holistic Dental Treatments
Because your oral health is closely tied to your overall health, there are many times when a dental treatment will improve your wellbeing, regardless of whether you see a traditional dentist or a holistic dentist. Fixing an improper bite and restoring your quality of sleep while reducing headaches, earaches, and neck and shoulder pain is beneficial no matter which type of dentist you see.
However, some very common dental practices take a different route in a holistic dental office. These distinct differences between traditional and holistic dentistry include:
Fillings: Holistic dentistry prefers not to use mercury in fillings because of the danger this toxic metal can pose for your health. Holistic dentists use a tooth colored resin to fill cavities and offer strategic removal of old mercury fillings to avoid mercury toxicity in the removal process.
Root Canals: Holistic dentists rarely recommend root canals because of the potentially toxic chemicals used in sterilization of the roots. They are concerned that root canal therapy cannot be completely effective and might actually make matters worse.
Fluoride: Fluoride, found in most public water systems, is an important nutrient to heal and sustain tooth strength. However, in excess, fluoride can cause fluorosis and be toxic to the human body. Holistic dentists want to avoid overdosing on fluoride and do not recommend its use in most cases. Some holistic dentists are OK with topical fluoride like you can find in most toothpaste.
Ozone Therapy: Oxygen is a powerful element for healing and is very safe for your health. Some dental treatments can benefit greatly from exposure to clinical grade oxygen. Holistic dentists use oxygen therapy in addition to a number of oral procedures.
Biocompatible Materials: Holistic dentists will test any material before they use it in your mouth to make sure that you personally won't have a negative reaction to it based on your unique body chemistry.
X-Rays: Holistic dentists use digital radiography instead of traditional x-rays. With digital x-rays, you're exposed to 80% less radiation than traditional methods. It also does not require chemical processing which is better for the environment and provides safer, faster service.
Choosing a Holistic Treatment
It goes without saying that everyone wants to receive the best treatment and the best care possible. We want that for you, too. It's a privilege to have access to medical and dental care, but sometimes the options are overwhelming.
When looking to find the best solution for your oral care needs:
Be a team with your dentist; do some research on what dental options seem right for you.
Know that depending on your current health and your specific needs, both conventional dentistry and holistic dentistry offer excellent solutions for your oral health needs.
You will feel most comfortable working together with a dentist you know and trust.
Never be afraid to ask questions. Dentists love to educate their patients, and the more you know, the more confident you'll feel.
If you're looking for a knowledgeable, caring dental office in Yorktown Heights, The Center for Holistic Dentistry is here for you. Dr. Lerner and our professional staff can help you achieve the smile you want and deserve. Make an appointment today.
---
Sources
http://www.holistic-dentists.com/holistic-dentistry/