Smile Gallery – Before & Afters
Success Story: Midge
Look and Feel Better with State-of-the-Art New You Physiologic Dentures
We create dentures that act orthopedically, placing your mouth in the optimum position for your jaw and bite to work together harmoniously. This means they will more effectively stay in place, feel better, and look much more natural than traditional dentures ever could.
This is what has been done for Midge who you can see in the photos below.

You can see that Midge looks years younger. That is because New You Physiologic Dentures restore support to the muscles of the face and jaw in effect performing a non-surgical facelift.
In the upper photos above where Midge's face looks collapsed and aged, she is wearing conventional dentures made with old fashioned methods. If you are wearing dentures, they have probably been made by these same techniques and obviously create a compromised result. Much like the dentures worn by George Washington.
New You Physiologic Dentures are made with state of the art techniques and understanding of the physiologic needs of the muscles of the face and jaw of proper support. We can create the same results for you that Midge has experienced. You deserve to look and feel better.
Success Story: Randy
Implant Retained Teeth in a Day
Randy elected to have new teeth that he didn't have to take out that are held in place by 6 implants on the top and 6 implants on the bottom. This is what we call A New You Guided Smile. After careful planning with our team of skilled technicians, we are able to remove all of your remaining ailing and failing teeth, place implants, and have you leave the office with a new smile all in the same day, just like was done for Randy.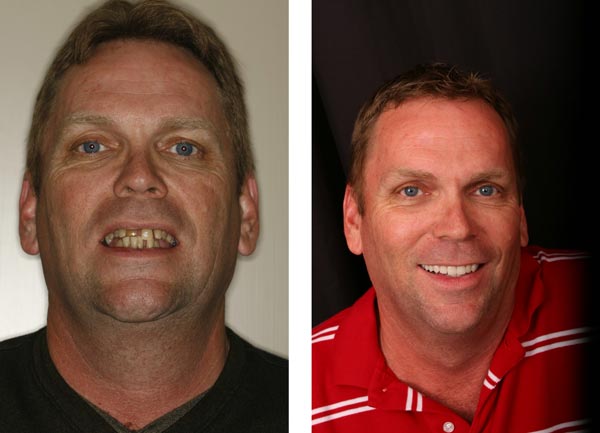 Andrew
"I wanted to get rid of a partial denture I had worn for as long as I can remember."
In Andrew's case, we were able to replace two missing teeth with a single implant that restored confidence to his smile.
Arlene
"I haven't felt good about my smile in a long time."
Arlene had avoided the dentist for a long time. She had a mouth full of mercury fillings, areas of decay, and discolored fillings in her front teeth. She also felt her front teeth were too big. We performed a dental makeover for her. We removed her mercury fillings and restored her smile.
It looks like she was pleased with the result. What do you think?
Alice
"I don't like my smile."
Alice didn't like the way her teeth looked. She had an under bite. This caused her front teeth to appear too small. Her old crowns didn't look natural.
She liked her new smile so much she changed her hair color too. What a transformation!
Mary
"My front teeth are uneven."
Mary has a deep bite and had some crowns on her upper teeth that caused her lower teeth to wear down. We replaced the upper crowns and corrected the bite in the process.
Her lower teeth were restored to their natural length and appearance with porcelain veneers.
Marty
Marty's teeth had worn down. His teeth were made whole again. Marty was thrilled with his new smile!
Maryellen
Maryellen wasn't happy with the size and shape of certain teeth in her smile. Now she has a beautiful smile!
Phylliss
Phyliss didn't like her buck teeth and gaps on her left side. After we replaced the crowns in the front of her mouth, she loved her new smile!
As the premier holistic dental practice in Yorktown Heights, N.Y. and the Hudson Valley Region., our dentist and team at The Center For Holistic Dentistry also provide 5-star dental care to patients from White Plains, Cortlandt Manor, Katonah, Mount Kisco, Briarcliff Manor & Westchester County, N.Y., and the surrounding areas.