Biological Oral Surgery Near Briarcliff Manor, NY
Let Our Experienced Team Improve Your Oral Health
In certain cases, Dr. Lerner may recommend oral surgery near Briarcliff Manor, NY. Dr. Lerner has advanced training and experience treating clinical issues related to the hard and soft tissues of the face, mouth, and jaws. Along with our expert team, Dr. Lerner can help you with a variety of cosmetic or reconstructive dental needs.
The Removal of Diseased Teeth
We are focused on salvaging your teeth. As a result, in the past, most infected teeth were treated by means of root canal therapy. As time passed, we began to see that a significant number of these teeth persisted with a low-grade infection that did not show on conventional x-rays.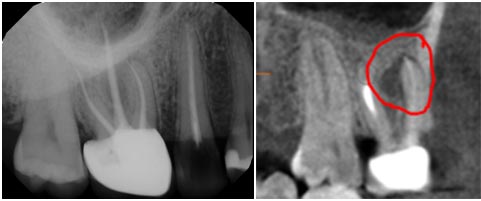 With the invention of 3D Cone Beam x-rays, we have the ability to see more. On the left is a conventional x-ray. The image on the right is from a 3D Cone Beam image taken the same day. The infection which is quite clear on the 3D image is circled in red.
Tooth extractions are always considered a last resort treatment option. Our main goal is to keep all of your natural teeth in your mouth. This is why we stress prevention. However, when an extraction is necessary, we're here to treat you compassionately and ensure as speedy a recovery as possible. We'll provide you with directions for home care, but don't hesitate to contact us if you have concerns or questions following your extraction.
We have begun to learn more about the influence that infections in the mouth have on the body overall; placing strain on our immune system and directly weakening the organs that were related to the tooth by the associated acupuncture meridian.
At The Center For Holistic Dentistry, we remove diseased and infected teeth following strict protocols to ensure the best outcome for you. We will use Applied Kinesiology testing to verify the affected area to ensure it is strengthened by the removal of all infected material. After thoroughly cleaning out the infected site it will be treated with an infusion of ozone to assist in its disinfection.
In many situations, a graft will be placed to assist your body in the healing of the bone and minimize the potential for cavitation to develop. Cavitation is a void in the bone. We generally use a material called PRF in our grafting.
Healing With Platelet Rich Fibrin (PRF)
Platelet Rich Fibrin is a healing biomaterial that is extracted from your blood when spun in a centrifuge. PRF promotes bone and soft tissue regeneration. When used in conjunction with a bone graft, this minimally invasive technique prevents many of the potential complications that could compromise healing.
Dental Implants
Placing dental implants can be a complex procedure that varies from person to person. For example, if bone grafting is necessary before placement, there will be more time involved in the process.
It's crucial that your jawbone is in ample condition to support the implant and ensure that once it's placed, you'll have no trouble with chewing or speaking. After all, one of the reasons dental implants are the #1 recommended tooth replacement solution by doctors and patients is because of how natural they feel and look.
Once we've determined your mouth is in ideal condition, your customized treatment can proceed. First, a small hole will be created in your gum to expose the bone, which will also have a hole opened – this will become the home of a titanium post. After the post is placed, your gum tissue will be sutured and covered so the implant can fuse with the bone and the site can heal.
Once your jawbone and gums have healed, an abutment holding a crown will be attached to the implant. Dental implants offer the following benefits:
Protection and improvement of your speech patterns.
Aesthetic improvement of your smile and facial structure. A healthy jawbone prevents the sunken-in facial appearance that occurs when teeth are missing.
Increased comfort over traditional dentures because they fuse with your jawbone instead of sitting atop your gums.
You can eat confidently knowing your implants are secure.
Efficient oral hygiene since you can brush and floss the same way you would with your natural teeth.
Durable technology that can last a lifetime if cared for properly.
A common question that comes up regarding dental implants is, "Will I have to go without teeth?" The answer is, "That depends." When multiple implants are placed at the same time, they can lend support to one another, which allows us to place temporary crowns in place while the tissues around the implant heal. When a singular implant is placed, it will need to be protected until the tissues around it are healed enough to support the force of you biting on it.
More about Biological Dental Implants can be found here.
Learn More About Oral Surgery Near Briarcliff Manor, NY
To learn more about oral surgery from our experienced team, schedule your New Patient Exam by calling 914-245-4041 or by clicking here. Your appointment includes a comprehensive review of your health history and concerns; an evaluation of your teeth, bite, gums, and airway passage; low-radiation digital x-rays; and a discussion of your options with a personalized treatment plan. We look forward to meeting you!
As the premier holistic dental practice in Yorktown Heights, N.Y. and the Hudson Valley Region., our dentist and team at The Center For Holistic Dentistry also provide 5-star dental care to patients from White Plains, Cortlandt Manor, Katonah, Mount Kisco, Briarcliff Manor & Westchester County, N.Y., and the surrounding areas.