Biocompatible Dental Implants Near Cortlandt Manor, NY
Smile With Confidence Again
Are you missing one or more teeth and would like to smile with confidence again? Maybe your dentures don't feel secure. Perhaps you have difficulty chewing. If this sounds like you, then we have good news! Dental implants near Cortlandt Manor, NY, can provide you with new teeth that look and feel just like your own.
What Is a Dental Implant?
A dental implant is an artificial tooth root that is placed into your jaw and holds a replacement tooth, bridge, or denture. Dental implants are an ideal option for people in good health who have lost a tooth or teeth due to periodontal disease, an injury, or another reason.
Under proper conditions, dental implants can last a lifetime. Our dental implants are natural-looking and feel like regular teeth.
Benefits of Dental Implants
Replace one or more teeth without affecting bordering teeth.
Support a bridge and eliminate the need for a removable partial denture.
Provide support for a denture, making it more secure and comfortable.
Create a more youthful appearance.
Increase your self-confidence.
Allow you to eat whatever you like.
What Are Implants Made of?
At first, implants were all made of pure titanium, but that is no longer the case. Many implants used today are made of titanium mixed with aluminum and vanadium. While they are cheaper, cheaper is rarely better. When we screen for biocompatibility, we find that most people are sensitive to the cheaper titanium alloys, which is why we favor implants manufactured in Europe, where standards for biocompatibility are more stringent.
In this video, Dr. Lerner shares the shortcomings of dentures from years ago and how advanced implants of today are a much healthier and functional solution.
Benefits of Pure Titanium Implants
We have a long track record of successful results.
Titanium implants are made in two parts. The part that goes below the gum can be covered when the implant is placed to provide undisturbed healing. The part that goes above the gum to hold the tooth can be screwed into place later, and the shape is customized to adapt to the requirements of your bite or for cosmetics.
Pure titanium is one of the most biocompatible metals with long use in orthopedic medicine.
Titanium implants encourage an intimate adhesion of bone around them, which makes them suitable for the long-term replacement of teeth.
For some time, we used only pure titanium implants because we found that most patients are not sensitive to pure titanium. We now offer implants that are metal-free and made of a material called Zirconia.
Benefits of Metal-Free Zirconia Implants
Zirconia has become popular as a desirable implant material because it interacts well with your natural gum and bone, making it biocompatible.
Metal-free implants are biological dental implants, meaning they're a more holistic option for those interested in treatments that support total health.
For cosmetic reasons, zirconia is a better choice. Titanium dental implants may cause a dark line around the gum. Zirconia is a more natural color and eliminates this effect.
When it comes to dental hygiene, zirconia is favored by many periodontists because it discourages the buildup of plaque and tartar in a way that titanium does not. That means less risk of gum disease in the future.
Because of the increased interest in holistic dentistry and metal-free treatments, zirconia dental implants are gaining in popularity. For patients who suffer from sensitivity to titanium, metal-free dental implants offer an excellent alternative.
Implant Retained Teeth-in-a-Day
Randy elected to have new teeth that are held in place by six implants on the top and six implants on the bottom. This is what we call A New You Guided Smile. After careful planning with our team of skilled technicians, we are able to remove all of your remaining failing teeth, place implants, and have you leave the office with a new smile all in the same day, just like was done for Randy.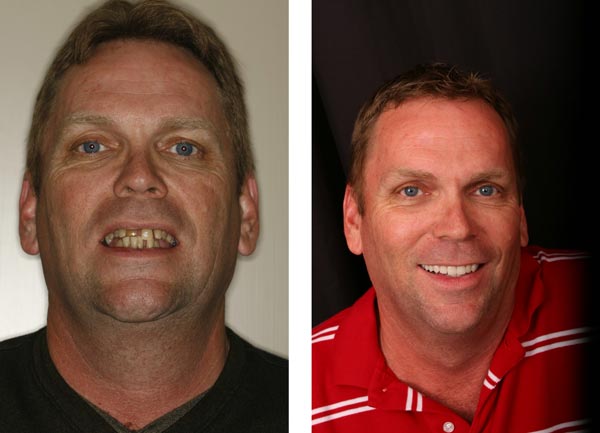 Learn More About Dental Implants Near Cortlandt Manor, NY
To experience our exceptional dental care, schedule your New Patient Exam by calling 914-245-4041 or by clicking here. Your appointment includes a comprehensive review of your health history and concerns; an evaluation of your teeth, bite, gums, and airway passage; low-radiation digital x-rays; and a discussion of your options with a personalized treatment plan. We look forward to meeting you!
As the premier holistic dental practice in Yorktown Heights, N.Y. and the Hudson Valley Region., our dentist and team at The Center For Holistic Dentistry also provide 5-star dental care to patients from White Plains, Cortlandt Manor, Katonah, Mount Kisco, Briarcliff Manor & Westchester County, N.Y., and the surrounding areas.